Barbara Pratt
I concentrate on the visual, tactile aspect through the use of flowing fabric. The social aspects play a bigger role for me, however I like to depict women's free and independent spirits. Perhaps I sense a battle between how we would like to be seen as women and how we are seen.
- Barbara Pratt
Excerpt from artist statement in curriculum vitae, AGNL Permanent Collection file.
Barbara Pratt was born in St. John's, NL in 1963, and grew up in the community of Salmonier, St. Mary's Bay. The youngest daughter of renowned painters Christopher and Mary Pratt, she was raised in a household where art was frequently discussed. However, her parents neither actively encouraged nor discouraged her from becoming an artist.
Pratt studied at Acadia University in Wolfville, Nova Scotia, and in 1984 received a Bachelor of Arts degree with a major in English. She began drawing and painting during her third year of studies and decided to pursue art as a career. She received grants and awards for her artwork and, after a series of group exhibitions, had her first solo show at the Spurrell Gallery in St. John's in 1986.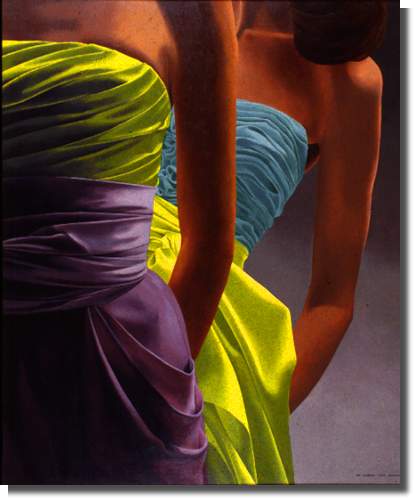 Two Women in Bright Gowns
1986
Oil on Canvas
154 x 128 cm
Artwork
She painted the human figure almost exclusively during the early years of her career, but later extended her work to other subjects, including flowers, offshore vessels, and landscapes. She is noted for the photographic precision of her work and for her vibrant use of colour.
Pratt's paintings of figures often depict women who might appear in fashion magazines such as Vogue and Elle. However, the central focus of her paintings is not the models, but rather the colour and texture of the clothing they are wearing. The clothes often appear to have a life of their own, leaving the model wearing them rendered abstractly. Her work has been described as "fabric realism."
She is also known for her beautiful paintings of flowers, which are sometimes growing in the wild, and other times arranged in tea cups or other containers. She has also painted oil tankers and other vessels engaged in Newfoundland's offshore oil industry. In 2010, she exhibited a series of landscapes inspired by a train trip from Toronto to Vancouver.
Her work has been shown in many exhibitions, including the solo shows Out of Fashion at the Art Gallery of Newfoundland and Labrador (now The Rooms Provincial Art Gallery) in 2003, Train at the Emma Butler Gallery in 2010, and Ships at the Emma Butler Gallery in 2012.
In addition to The Rooms Provincial Art Gallery's Permanent Collection, Pratt's artwork can be found in private and public collections across Canada and the United States.
She continues to paint from her studio in St. Phillip's, Newfoundland and Labrador.