Artistic Fraud
Founded in 1994, Artistic Fraud has staged eight original theatre productions that emphasize spectacular visual events and animated scripts. Dedicated to developing and producing new, innovative and original work from Newfoundland artists, Artistic Fraud is one of several new theatre companies to greatly enhance the reputation of Newfoundland theatre across Canada. The core management team functions as the Board of Directors as well as the key production personnel, and includes the talents of Jillian Keiley (Artistic Director), Geoff Seymour Jr. (Stage Manager/Lighting Designer), David Somers (Stage/Production Manager/Producer), Danielle Irvine (Director/Producer/Lighting Designer), and Anna Stassis (Marketer/Producer/Actor). Add to this the talents of Musical Director/Composer Petrina Bromley and Writer/Actor Robert Chafe and the result is exceptional.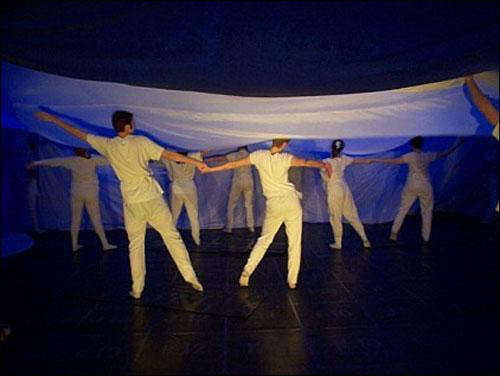 Kaleidography
The constant flow of unified images creates the illusion that one is looking through a kaleidoscope.
Photo by David Somers, ©1997. From Under Wraps: A Spoke Opera.
Productions and Performances
1995 introduced Newfoundland audiences to the electric talents of Jillian Keiley. In Your Dreams, Freud— an adult comedy written by Keiley and Chris Tolley — is a musical romp through the unconscious and the conscious worlds of family, performance, literature and psychoanalysis. With a cast of at least 20 (including an on-stage rock band), and a tie-dyed, toga-clad chorus, Jillian Keiley creates a show that shakes up audiences' perceptions of musical theatre. The energy and innovation of Freud continued with the one-man show, Up and Down in Shakey Town (1995), a one-man show written and performed by Ron James, and then again with Lemons (written by Robert Chafe) in 1996, and The Cheat — Keiley's own astonishing 85 member contribution to the 1996 Sound Symposium. To date, the most well-known production by Artistic Fraud is Under Wraps: A Spoke Opera, which premiered in February 1997 at the LSPU Hall in St. John's and has gone on tour to Halifax and western Canada.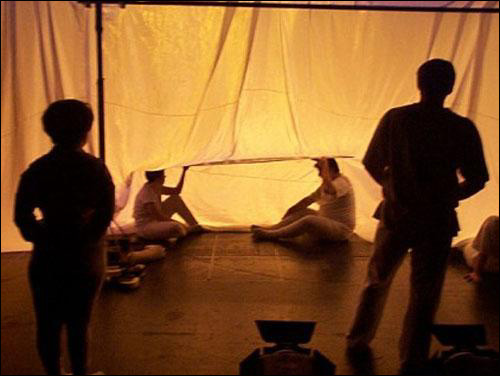 Graceful Color
Some of the artists perform using parachutes and elaborate lighting.
Photo by David Somers, ©1997. From Under Wraps: A Spoke Opera.
Under Wraps, written by Robert Chafe with a musical score composed and arranged by Petrina bromley, is a story of unrequited love (gay unrequited love) and of friendship. Beneath this (sort of) traditional theme, is a sixteen person chorus covered by a huge mantle of parachute cloth. This is a chorus in both the musical and the Greek sense of the word. What the audience sees while the dramatic conflicts unfold is the magical movements of the chorus beneath the cloth —lit with colours that compliment the mood of the action. This style of production has been termed kaleidography — synchronized movement harmonics — which results in the transformation of the entire cast and stage into unified images of patterns and shapes, constantly flowing into new illustrations as smoothly as if one were looking through a kaleidoscope. The basis of the concept is a precisely-timed grid style of choreography that has a central rhythmic structure on which all sight and sound is based. Combined with large casts and chorally-driven music, the resulting symphony of colour, movement and sound can only be described as theatre at its most spectacular.
The production of these plays led to the nomination and eventual selection of Artistic Fraud's founder and innovator, Jillian Keiley, as the 1996 Newfoundland and Labrador Arts Council Emerging Artist of the Year and the 1998 Canada Council John Hirsch prize for best new director in Canada. Since the 1997 production of Under Wraps, Keiley and her fellow Frauds have produced Jesus Christ, Superstar: A Living Kaleidoscope at the St. John's Arts and Culture Centre. The summer of 2000 saw the RCA production of SchumannbrahmSchumann (written by Barbara Nickel and directed by Jillian Keiley using her kaleidographic style) about the life, loves and music of Clara Schumann, Robert Schumann and Johannes Brahms, and Artistic Fraud opened the 2000 Sound Symposium with Signals — "the newest thing that can't be done" — followed by a workshop for audience members and symposium enthusiasts.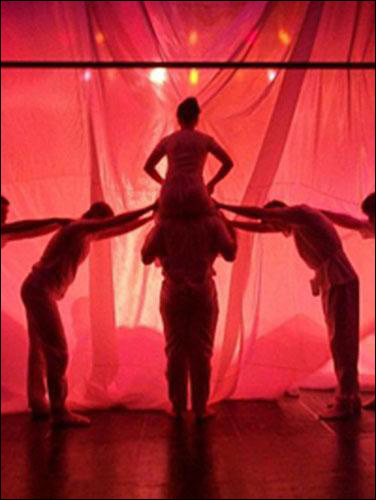 Beauty in Motion
In Kaleidography there is a constant flow into new illusions.
Photo by David Somers, ©1997. From Under Wraps: A Spoke Opera.
Artistic Fraud is a theatre company that continues to dedicate itself to the newest and most visually original productions in Newfoundland and Labrador.