Arch Williams
People come to see me and ask where my studio is. All I can tell them is - 'you're looking right at it - the kitchen table.' Although they call it folk art, I don't like to put a name on it because no two people paint alike. ...I like to show what the settlements looked like in olden times with the salt-box houses and fish flakes. You don't see so much of that anymore, and I think people miss it.
- Arch Williams
Excerpt from an interview in Decks Awash, August, 1974, p.16.
Arch Williams was a folk artist known for his colourful paintings of traditional Newfoundland scenes and activities, often set in the late 1800s and early 1900s.
He was born in 1908 in Ferryland, one of Newfoundland's oldest and most historic communities. He worked as a fisherman from 1926 to 1943, and then as a bookkeeper with the Southern Shore Trading Company for the next 31 years.
Williams did not begin to paint seriously until 1971, when the prominent Newfoundland artist Gerald Squires moved to Ferryland and offered art classes. Squires recognized Williams' talent and encouraged him to continue painting. In 1975, the Memorial University Art Gallery (now The Rooms Provincial Art Gallery) organized a solo show of Williams' oil paintings, entitled Ferryland Folk Art. By 1980, Williams had participated in four shows at the gallery and his work had toured Atlantic Canada.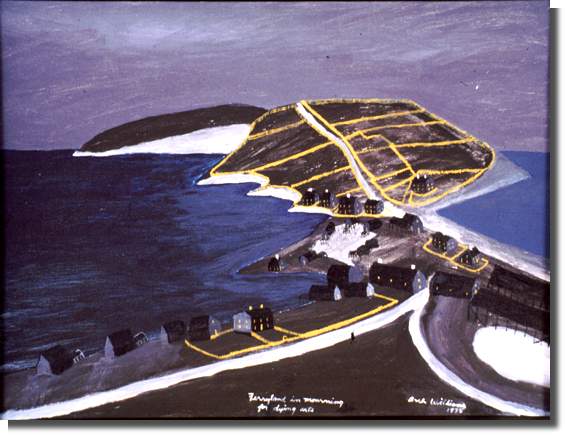 Ferryland in Mourning for Dying Arts
1975
Acrylic
44 x 59 cm
Williams painted both from memory and from old photographs. His work draws heavily on the scenery and traditional lifestyles of the Southern Shore. He painted fishing communities, boats and ships, local houses and buildings, and people engaged in traditional activities, such as hunting seals and fishing. The paintings are not only valuable for their aesthetics, but also serve as historical records of the communities they represent. Works such as Ferryland a Century Ago, Wreck of the Torhamvan, and The Goodridge Premises document many aspects of the province's past.
Williams painted in the winter months and worked in his garden and on other chores during the summer. He was also active in the local community and helped to establish the Ferryland Historical Society and the Southern Shore Museum.
His art can be found in private and public collections, including that of The Rooms Provincial Art Gallery's Permanent Collection, the Canadian Museum of Civilization, and the Simon Fraser Art Gallery at Vancouver, BC.
Williams passed away in 1982.