William Pye House and Outbuildings (Brooklyn)
Built circa 1890, the William Pye House is a two and a half storey gable-roofed house. It is an excellent, intact example of a type of vernacular design common in the Bonavista region into the twentieth century. Of particular note is the mode of construction which employs vertical studs and splines, with planks placed vertically side-by-side on a wooden sill.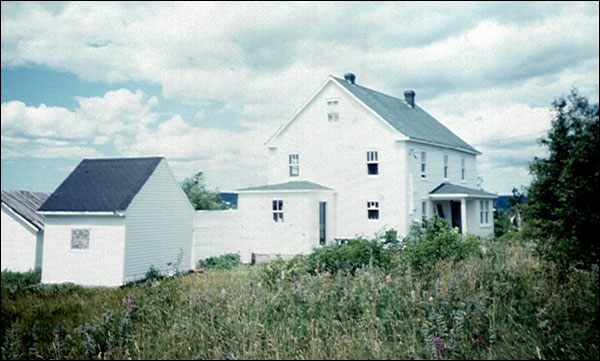 William Pye House, Brooklyn, NL
View of the side and rear façade
© 2004 Heritage Foundation of Newfoundland and Labrador
The property has well-preserved outbuildings, including two sheds and a cellar. There are very few examples of outport homes with their original outbuildings still remaining. Such buildings were designed for practical use, employing rough materials, simple design elements and utilitarian construction techniques. A feature of note on the Pye property is a wooden wall which runs from the main dwelling to one of the outbuildings, creating a type of courtyard.
The William Pye House played an important cultural role in community life. For over two decades the Brooklyn community post office was located in the house. In smaller communities it was common to establish post offices in private homes. These places became the scene of social gatherings where local news was shared and recent events were discussed. As such outlets give way to centrally located post office boxes, locations such as the William Pye House stand as reminders of an earlier time and place.
The William Pye House and its outbuildings were declared Registered Heritage Structures by the Heritage Foundation of Newfoundland and Labrador in April 2002.
Registered Heritage Structures
---
Also view William Pye House Registered Heritage Structure on the Heritage Foundation of Newfoundland and Labrador web site.
The Newfoundland and Labrador Heritage Web Site has on its site only a portion of the registered heritage structures in Newfoundland and Labrador. To view a complete list or search for a particular structure visit the Heritage Foundation's Property Search page.