"The House"
(Rennie's Mill Road and Monkstown Road, St. John's)
This impressive Queen Anne Revival style house was designed by the noted Newfoundland architect William F. Butler, of the firm Butler and MacDonald, for merchant and politician James Ryan. It was built between 1909 and 1911 at the intersection of Rennie's Mill Road and Monkstown Road in St. John's. The exterior is clad in shingles and clapboard, with detailing similar to that of "Winterholme" and "Bartra", also designed by Butler, both of which have been designated by the Heritage Foundation. In particular, the large porch and classically inspired pediment seem typical of Butler's work.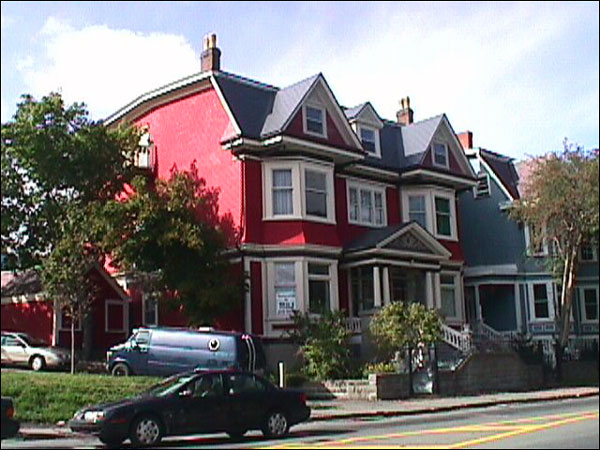 © 2001 Heritage Foundation of Newfoundland and Labrador
Butler's original plans for the property, dated June 5th, 1909, divided the basement into two storerooms, a vegetable storage room, furnace room, and a subdivided coal room, with one section for kitchen coals and the other section for furnace coals, with a separate coal shute for each. The first floor had a large central reception hall with oak wainscot and oak floor throughout, drawing room, formal dining room, breakfast room, kitchen and pantry. The second floor featured another large hall with oak wainscot, three bedrooms, linen room, bathroom and den. The attic held an additional five bedrooms off a central corridor.
Oral tradition maintains that the automobile for which the garage was constructed arrived three months before the fuel. According to one bit of local folklore, the Ryans were so proud of the new contraption that they would sit in the car on Sundays, in the garage, petrol or no petrol, inviting in curious neighbours to have a look.
The house was one of the few large St. John's homes built for an outport merchant. James Ryan and Company was one of the largest fishery supply and import-export firms in Newfoundland.
James Ryan died in 1917 at the peak of his business career, leaving generous bequests to Catholic, Methodist and Anglican orphanages. He also left funds for the Catholic, Methodist and Anglican ministers in Bonavista, with instructions that the money was to be given to the most needy and deserving of the community's poor. His business was run by his brother, Daniel. After Daniel's death, his widow Katharine continued on, showing great business acumen. She eventually gave the employees a bonus, the first in 23 years, and then a raise. She was intimately involved in the business until she was eighty-one, two years before her death.
"The House" was designated as a Registered Heritage Structure by the Heritage Foundation of Newfoundland and Labrador on September 15th, 2001.