Philip Templeman/J. T. Swyers General Store (Bonavista)
Initially built for Bonavista merchant Philip Templeman in 1910, the Philip Templeman/J. T. Swyers General Store was part of Templeman's expanding business operations. Templeman began his mercantile operations in 1887 when he purchased the premises belonging to James Saint. By 1895, Templeman shipped his own fish and eventually owned vessels going to the Labrador and Grey Island fisheries. Templeman also sat on Newfoundland's Legislative Council for several years.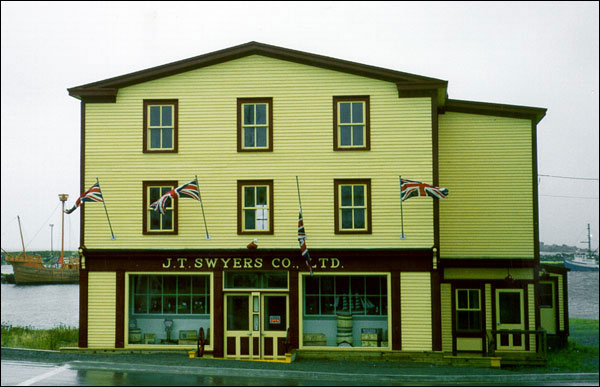 © 1998 Heritage Foundation of Newfoundland and Labrador
Following Templeman's death in 1926 the business went into serious decline. During the Great Depression of the 1930s, the family sold the buildings to J.T. Swyers.
In 1892, at the age of 16, Joseph Thomas Swyers opened his first store in Red Point, Bonavista, following the death of his father. Shortly thereafter he opened a store at Bayley's Cove in 1894. The business eventually expanded to supply the fishermen associated with the French and Labrador fisheries. The Swyers expanded operations into other communities, and by the first decade of the twentieth century he was handling 120,000 quintals of dried cod fish per year.
During the First World War Swyers formed a partnership with A. E. Hickman. Together they established a shipyard in Charlottetown, Bonavista Bay. Swyers controlled his vast mercantile operation from Bonavista and in 1920 formally incorporated his company as J. T. Swyers Company Ltd. In 1947, he became a founding member of the Newfoundland Associated Fish Exporters Limited. After his death in 1965, his operations continued and the retail store in Bonavista operasted until 1973-1974.
The Heritage Foundation of Newfoundland and Labrador declared Philip Templeman/J. T. Swyers General Store in Bonavista a Heritage Structure in March 1996. Restoration work on the exterior and interior of the building was completed in 1997. The first floor is now a gift shop and a coffee shop is being constructed.