St. Peter's Church (Catalina)
The Anglican Church in Catalina is the community's second church named for St. Peter. It was constructed near the site of the first church. Donations for the new church began in 1860 when the minister, Rev. William Netten, gave £5 for the project.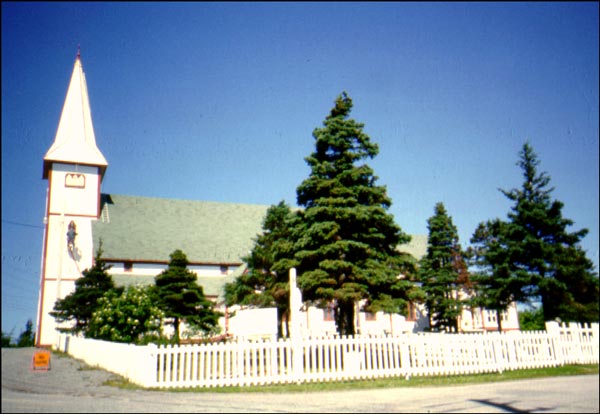 St. Peter's Anglican Church, Catalina, NL
A view of the side façade of the church.
© 1998 Heritage Foundation of Newfoundland and Labrador
By 1863 the parish had raised sufficient funds to begin construction. John Harvey supervised the project, which was finished in 1873. The substantial cost of the project was largely bourne by the congregation, who contributed approximately £1,300 over the fifteen years of construction. Rev. J.T. Hiscock said St. Peter's Church was "a good example of what ordinary folks can do, when they put their wills and backs into a good work."
The central nave represents a classic example of the Gothic revival style of Anglican churches built in rural Newfoundland throughout the nineteenth century. The 22m steeple has been a major landmark in the Catalina area since its construction. The decor reflects a Puritan temperament, with a preference for austerity rather than ornamentation. The church still contains the original pews and can seat 450 people.
St. Peter's Church Mission predates the actual church and on October 5, 1947, it celebrated its 100th anniversary. The service, broadcast on radio stations VONF in St. John's, and VOHN in Gander, was one of the first live broadcasts to originate in rural Newfoundland.
The Heritage Foundation of Newfoundland and Labrador declared St. Peter's Anglican Church in Catalina a Heritage Structure in June 1987.
Registered Heritage Structures
---
Also view St. Peter's Anglican Church Registered Heritage Structure on the Heritage Foundation of Newfoundland and Labrador web site.
The Newfoundland and Labrador Heritage Web Site has on its site only a portion of the registered heritage structures in Newfoundland and Labrador. To view a complete list or search for a particular structure visit the Heritage Foundation's Property Search page.