St. Paul's Church
(Harbour Grace)
Built in 1835, St. Paul's Anglican Church in Harbour Grace is thought to be the oldest stone Gothic Revival style church in Newfoundland. The present church is the fourth Anglican church built in Harbour Grace.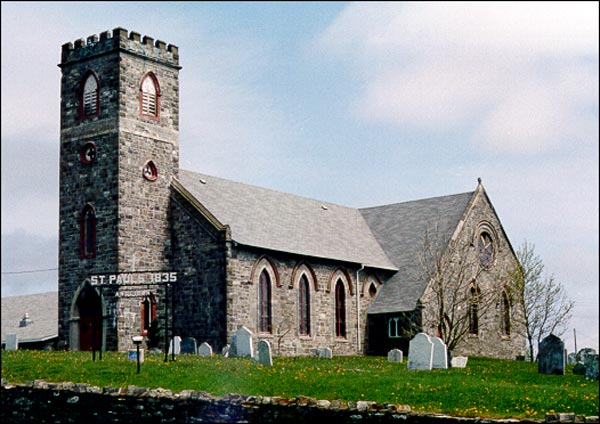 © 1998 Heritage Foundation of Newfoundland and Labrador
A fire in 1816 destroyed the first church, which had been built in 1764. Its replacement, built a year after the fire, blew down in a severe wind storm. A fire that destroyed a major part of Harbour Grace in 1832 destroyed the third church. Following these losses, the Church of England parishioners opted to build a stone church instead of another wooden-frame structure. The use of stone in outport Newfoundland during this time was rare, as there was a lack of qualified stonemasons for the work. Despite the added expense and lack of qualified masons, they contracted Robert Lee Whiting and Thomas Kitchen to build St. Paul's.
On August 28, 1835, Governor Henry Prescott laid the cornerstone. Two years later, on July 9, 1837, with the nave and tower completed, the church opened for services. Two intricately designed chairs in the chancel were hand carved in India and donated to the church in 1835 by parishioner George Makinson. In 1838 local merchants Ridley & Sons acquired the church's first bell from Liverpool, England. It was another two years before the building was consecrated by Bishop Aubrey George Spencer on July 4, 1840.
Work was still not complete on the structure and in 1860 the transept, apse and chancel were added. The renovation architects appeared to be influenced by the Cambridge Camden Society, a movement that advocated medieval Catholic designs of a nave with aisles and emphasis on the choir seating. Seventeen years later, on October 6, 1877, the parish installed a pipe organ made by Chappell & Company of Liverpool, England.
Around the turn of the century serious structural problems began to emerge. In 1894, cracks in the base of the tower made it unsafe and it had to be taken down. Work on a replacement tower did not begin until 1897, and it took four years for the new tower, six ft. higher than the first, to be completed. Approximately a year later, work began on repairing the south side of the nave, which had bulged, and two years after that, similar work had to be completed on the north side.
The next major restoration work on the church was done between 1977 and 1978, when the tower was rebuilt for the third time. The interior was also refurbished during the 1970s.
In recognition of the continued efforts of the people of Harbour Grace to maintain an important part of their religious and architectural past, St. Paul's Anglican Church became a Registered Heritage Structure in September 1995.