St. Joseph's Roman Catholic Church
(St. George's)
The construction of St. Joseph's Roman Catholic Church began in 1898 under the caring and watchful eye of the Vicar Apostolic of St. George's, the Reverend Neil McNeil. Formerly the first president of St. Francis Xavier University at Antigonish, he was named to St. George's in 1894. He became the first Bishop of St. George's in 1904, moving to Vancouver in 1910. He was appointed Archbishop of Toronto in 1912, where he died in 1934.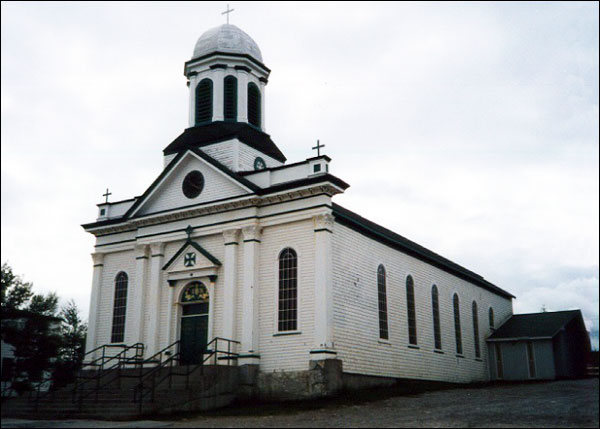 © 2000 Heritage Foundation of Newfoundland and Labrador
Occupying a very prominent position in the town, St. Joseph's served as the cathedral of the Diocese of St.George's from 1904 to 1946, when Michael O'Reilly moved the seat of the diocese to Corner Brook. At one time the church was the only Roman Catholic ecclesiastical facility for a very broad area.
Located on a rise of land with a sweeping view of greater St. George's, the classical design of the church makes it a major landmark. The church is surmounted by a clock steeple. The clock is connected to a bell which tolls every hour on the hour. The inscription on the bell reads "Dedicated to Saint Joseph. Made for the St. George's Cathedral Newfoundland". During the past 15 years, a substantial reinforced concrete foundation has been placed under the bearing walls and columns, and rotted wooden elements have been replaced.
The building was designated as a Registered Heritage Structure in March 2000.
Registered Heritage Structures
---
Also view the St. Joseph's Roman Catholic Church Registered Heritage Structure on the Heritage Foundation of Newfoundland and Labrador web site.
The Newfoundland and Labrador Heritage Web Site has on its site only a portion of the registered heritage structures in Newfoundland and Labrador. To view a complete list or search for a particular structure visit the Heritage Foundation's Property Search page.