St. James Anglican Church (Battle Harbour)
In 1848, Newfoundland's Anglican Bishop, Edward Feild, made a trip to the Labrador coast. While there he decided to petition the Society for the Propagation of the Gospel (SPG) to establish a mission in Labrador. The SPG was formed in 1701 to send missions throughout the British Empire where the local population lacked the means to support a minister.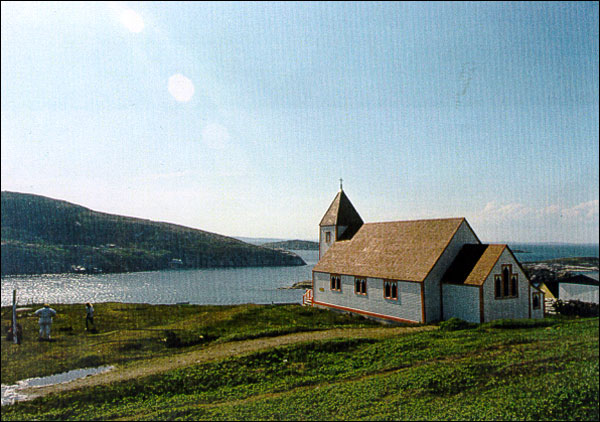 St. James Anglican Church, Battle Harbour, NL
A view of the church exterior.
© 1998 Heritage Foundation of Newfoundland and Labrador
During the summer months Battle Harbour's migrant fishing population, known as "floaters," swelled to several thousand. In addition, the permanent residents or "livyers" numbered several hundred. Despite the large numbers of people, however, the fishermen could not afford a resident clergyman. The SPG complied with Feild's request, and by 1850 Battle Harbour became the headquarters of the SPG's Labrador mission.
In 1852, construction began on St. James the Apostle Anglican Church. Finished in 1857 the church became a focal point for the spiritual needs of both the resident and migratory population. This is the oldest non-Moravaian church in Labrador.
The building is typical of Anglican mission churches built throughout Newfoundland in the nineteenth century. The clapboard-covered church has a tower on its west end with a chancel and vestry in its east end. Beneath the exposed roof framing of the church is a baptismal font and communion table. The furnishings, as far as can be determined, date from its consecration and reflect the Gothic theme of the church.
The designer of the church, William Grey, was a significant contributor to the Gothic revival in Newfoundland during the nineteenth century. He designed several churches, two of which were stone and the rest wood. St.James is the only remaining example of Grey's work in the province.
Newfoundland architectural historian Shane O'Dea stated that St. James the Apostle Church in Battle Harbour represented an "attempt by both Feild and (William) Grey to translate the ideals of the Gothic revival into Newfoundland terms and to produce a fairly simple building which met, liturgically, the requirements for a proper church."
With the eventual decline of the Labrador fishery, the church fell into disuse and began to deteriorate. A major restoration project in 1991 repaired much of the damage sustained after years of neglect.
In recognition of its architectural and historical importance St. James the Apostle Anglican Church became a Registered Heritage Structure in July 1991. This structure was also awarded the Southcott Award for heritage restoration by the Newfoundland Historic Trust.
Registered Heritage Structures
---
Also view the St. James Anglican Church Registered Heritage Structure on the Heritage Foundation of Newfoundland and Labrador web site.
The Newfoundland and Labrador Heritage Web Site has on its site only a portion of the registered heritage structures in Newfoundland and Labrador. To view a complete list or search for a particular structure visit the Heritage Foundation's Property Search page.