Society of United Fishermen Lodge #9 (Bonavista)
In 1862 Rev. George Gardner, a Church of England minister, formed a support group called Heart's Content Fisherman's Society. The society began to expand its membership into other outports on the south side of Trinity Bay, and by 1873 it had become the Society of United Fishermen (SUF), the only fraternal organisation of its kind to have its roots in Newfoundland. By the 1920s the society was firmly established in many areas of Newfoundland and had begun to expand into Nova Scotia. The fraternal organisation provided fellowship and established a mutual support system for its members at a time when few services were available to fishermen and their families.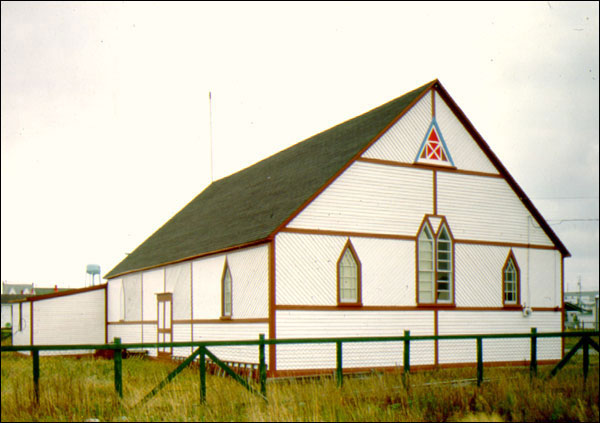 © 1998 Heritage Foundation of Newfoundland and Labrador
The SUF Lodge in Bonavista was constructed in 1875, a year after the organisation established itself in the community. The basic design of the building is adopted from the first SUF building in Heart's Content. The rear gable end of the building has a triangular window. The symbol of the SUF was chosen to represent Newfoundland's approximate shape, with Cape Bauld, Cape Race and Cape Ray being the points of the triangle. Within the triangle appears the Maltese Cross, with the junction of four spears forming eight points, symbolically representing the eight Beatitudes that members are taught to learn and observe. The motto adopted for the Society was Love,Purity, and Fidelity represented respectively by the colours red, white and blue.
The Heritage Foundation declared the SUF Lodge in Bonavista a Heritage Structure on September 17, 1994.