Rorke's Stone Jug (Rorke's Stone House - Carbonear)
One of the few old stone buildings still standing in Newfoundland and the only one in Carbonear, Rorke's Stone Jug is a landmark building in the community.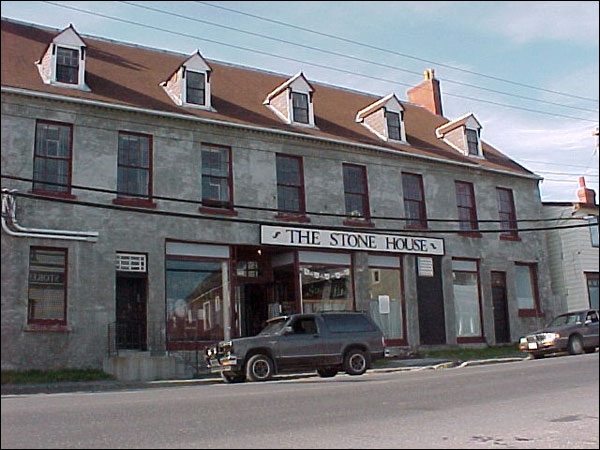 Rorke's Stone House, Carbonear, NL
A view of the front façade.
© 1998 Heritage Foundation of Newfoundland and Labrador
John Rorke was born in Ireland in 1807. He came to Newfoundland at age 17 to work as a clerk for a local firm run by his uncle. By age 23 he started his own business and married Mary Tocque, daughter of another prominent local merchant.
In the following years, Rorke and his family were among the most successful merchants in the area. Rorke established a fleet of ships for trading goods, fishing and sealing. They also established a shipbuilding business and began trading with the West Indies and other foreign ports.
Rorke also proved to be successful outside the business arena. He represented the District of Carbonear in the House of Assembly for 20 years, and in 1879 became a member of the Executive Council. On his retirement he had the title "Honourable" conferred upon him by Queen Victoria.
Disaster struck in 1859 in the form of a massive fire that destroyed much of Carbonear, including Rorke's business buildings and his residence. In 1860 they started construction on a new building that would serve as a centre for business and as a residence. The first floor of what came to be known as the Stone Jug served as the store and the centre for mercantile business. The second floor served as the residence for Rorke and his family while the third was used to house various servants and apprentices.
In 1896 John Rorke died, passing the business onto his sons. The business continued to be run by various members of the Rorke family until the 1970s, when it finally closed, ending 140 years of service to the people of Carbonear.
The Stone Jug is a large Georgian-style stone building on Water Street. It has three storeys made entirely of stone cut from nearby Kelly's Island. The building also has a pitched slate roof that, when combined with the stone walls, created an overall appearance of a jug.
The building has changed little over the years and remains in excellent shape. The only significant change was the addition of a one-storeyed wooden frame structure in the 1960s, to serve as a modern department store.
The building currently houses the Stone House restaurant and was recognised as a Registered Heritage Structure in December 1985.
Registered Heritage Structures
---
Also view the Rorke's Stone House Registered Heritage Structure on the Heritage Foundation of Newfoundland and Labrador web site.
The Newfoundland and Labrador Heritage Web Site has on its site only a portion of the registered heritage structures in Newfoundland and Labrador. To view a complete list or search for a particular structure visit the Heritage Foundation's Property Search page.