Roman Catholic Rectory (Bonavista)
The people of Bonavista built the Roman Catholic Rectory to accommodate Father Rev. James Brown, the local Catholic priest. Ronald Strathie designed and built the dwelling in 1901.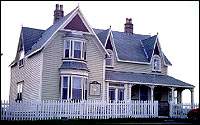 © 1998 Heritage Foundation of Newfoundland and Labrador
The Gothic cottage has a particularly interesting metal-cresting detail at the gable end that resembles elaborate English thatch work. The dwelling remained a priest's residence until the late 1980s. Over the years, the house became a focal point for visiting dignitaries to Bonavista.
The structure was slated for demolition until Stuart Fraser leased it 1993 and began restoration work. As the Silver Linings Bed and Breakfast it contains an antique collection and a collection of Victorian photographs taken in Newfoundland between 1896 and 1912.
The Heritage Foundation of Newfoundland and Labrador declared the Roman Catholic Rectory in Bonavista a Heritage Structure in September 1994.