Precious Blood Church and Bell House
(St. Andrew's)
This timber frame church was constructed in 1912 under the direction of Msgr. Andrew Sears in the community of St. Andrew's, a farming community situated at the mouth of the Little Codroy River. In the 19th century the settlement was known as Little River.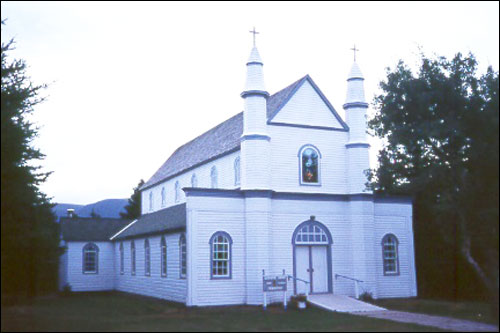 © 2001 Heritage Foundation of Newfoundland and Labrador
Precious Blood Church was built by local people, including Steve MacIsaac of St. Andrew's and Dan MacNeil of Upper Ferry. The first Nova Scotian Scots are said to have arrived in the area in 1844, including branches of the McNeill and MsIsaac clans. It has been argued, however, that St. Andrew's itself was for the most part settled by a second generation of McNeills and McIsaacs around 1860, along with an influx of McDonalds who arrived from Nova Scotia in 1862.
The doors, windows, eaves and corner boards of the church were made from local fir. All of the materials for the church were donated by parishioners from St. Andrew's and surrounding areas. The church was dedicated Oct. 28, 1915, by Bishop Michael Fintan Power, Bishop of St. George's. After a Pontifical Mass, an address and a purse of gold were presented to the bishop by the parishioners. According to a newspaper report, after the ceremonies the episcopal party "drove to Afton Farm here they were entertained at dinner by Mr. James Tompkins" with speeches by the bishop and others.
The church was wired for electricity in 1964, replacing the earlier gas lanterns, and in 1966 the coal stove was removed and replaced with a furnace. In January 1972 the altar rails were removed and the altar lowered, and in December of 1973 confessionals were installed in the rear of the church.
The style of the building is a vernacular interpretation of the Romanesque, with arched windows and keystone motifs on the main level, which are repeated in the clerestory. The front of the building has twin towers, and the grounds feature a separate bell tower structure. The bell house was built in September 1940, and contains a bell which is over 100 years old.
The Precious Blood Church and Bell House was designated as a Registered Heritage Structure by the Heritage Foundation of Newfoundland and Labrador on September 15th, 2001.