Lockyer/Swyers House (Bonavista)
The Lockyer/Swyers House is located on Coster Street, one of the main roads in Bonavista. It was built about 1911 for John Lockyer, a native of Trinity, who had been hired by James Ryan in 1904 as an assistant manager. One of his chief responsibilities was ensuring that cargoes of goods and fish entering and clearing the ports where the firm had operations were in order. He shared other management and office duties with both John McCarthy (the firm's manager and James Ryan's brother-in-law) and Nicholas Ryan (James' brother).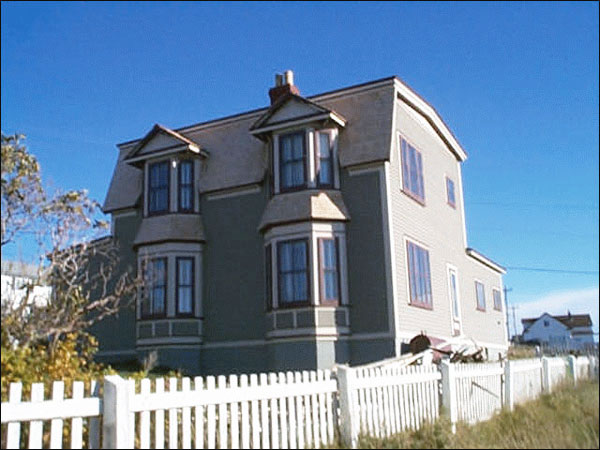 © 2004 Heritage Foundation of Newfoundland and Labrador
Lockyer died of pneumonia in 1917 and his wife, Alice, moved the family to Harbour Grace soon after. The house had several occupants over the next few years including Alexander Templeman, son of the merchant Philip Templeman. In the 1930s, A.G. (Bert) Swyers, managing director of J.T. Swyers and Company, Ltd., and his wife Jane acquired the house. It remained in the Swyers family until August 1999.
The building is a two-storey structure built in the Second Empire style with a mansard roof and bay windows - top and bottom - on the front (western) facade. The clapboard on the bottom of the bay is on the bias. This is also found at the local Society of United Fishermen (SUF) Hall. The interior is typical of an outport merchant's house in the period. The most intriguing feature is the intricate carving in the ground floor "ten-test" ceilings. Master builder Ronald Strathie developed this craft when "ten-test" first became locally available as a building material.
The best-known example of this technique is found at the W.F. Coaker bungalow in Port Union, but the work in the Lockyer/Swyers House more intricate and detailed. Such carving required great patience, and when Strathie arrived in the morning, he would go into a room and close the door, advising all present not to disturb him for the rest of the day.
In 1999, the Lockyer/Swyers House was purchased by Gerald and Doris Hussey. The building had been well-maintained, but over the years it had lost a considerable amount of its original architectural detailing: wood shingles on the mansard roof had been replaced with asphalt shingles; several sash windows had been replaced by "sliding windows," and so on. During the course of the restoration it was discovered that the sheathing on the south side showed extensive rot.
The principal objective of the restoration project was to regain the heritage character of the building through the use of traditional building materials and techniques. The project was completed within three months by Paterson Woodworking of Upper Amherst Cove.
An attractive and substantial residence, the Lockyer/Swyers House has been registered by the Heritage Foundation of Newfoundland and Labrador on the basis of its architectural merit. It was designated as a Registered Heritage Structure on September 25, 1999.