Landfall (Kent's Cottage) (Brigus)
The Landfall Cottage was constructed around 1786 for the Pomeroy family. It is built on the Battery, named after a gun placement site during King George's War from 1740-1748. They also call it Freshwater as it was a main source of water for sealing fleets on their way to the ice floes. The original building was a small Georgian-style structure with a chimney made out of brick-ballast from ships sailing from England.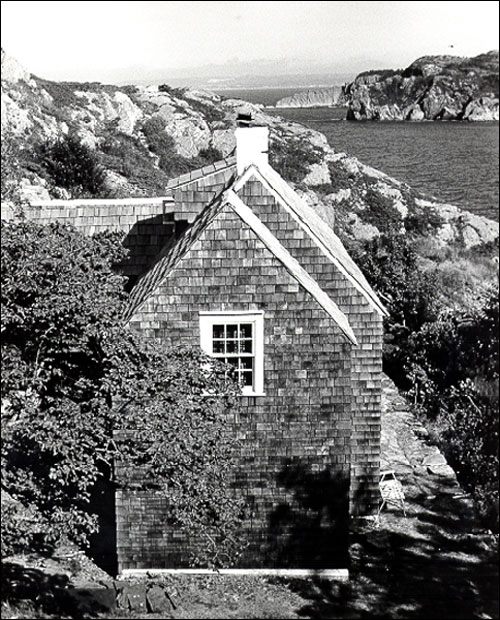 Landfall, Brigus, NL
Landfall is one of the oldest existing structures in Brigus, and maintains the general shape and size of an early 19th century residence.
© 1998 Heritage Foundation of Newfoundland and Labrador
The Pomeroy family owned the dwelling for many years but finally abandoned it and used it as a barn. In 1915 Rockwell Kent rebuilt the Landfall and added the west addition. Kent was an American-born artist and writer of Dutch extraction who came to Newfoundland in 1910. The island's harsh winters, landscape and indomitable people inspired the artist and in 1914 he moved to Brigus with his family. The structure became known as Kent Cottage and was featured in some of his paintings.
After Kent's departure from Newfoundland in 1915, engineer and artist Albert Edward Harris purchased and restored the cottage. Following his retirement in 1929, Harris moved to Brigus to pursue his artistic interest. Many of his subsequent works were depictions of the scenes and landscapes of Conception Bay, including the cottage.
Harris died in 1933 and the dwelling remained vacant until 1953 when Rupert Bartlett purchased it. The next year Bartlett sold the cottage to its current owner, Bradley J. Folensbee Jr. of Seattle, Washington.
The Heritage Foundation of Newfoundland and Labrador declared the Landfall/Kent Cottage in Brigus a Heritage Structure in June 1988.
---
Also view the Landfall (Kent Cottage) Registered Heritage Structure on the Heritage Foundation of Newfoundland and Labrador web site.
The Newfoundland and Labrador Heritage Web Site has on its site only a portion of the registered heritage structures in Newfoundland and Labrador. To view a complete list or search for a particular structure visit the Heritage Foundation's Property Search page.