John Hancock House
(Portland)
On September 13th, 1905, 21 acres and 14 perches of land were granted to John Hancock, Sr., James Hancock, William Hancock, and John Hancock, Jr., at White Rock, Goose Bay, in the District of Bonavista. The Hancock land was partitioned amongst the four grantees but no formal deed of partition was made. The name White Rock was changed to Portland circa 1910.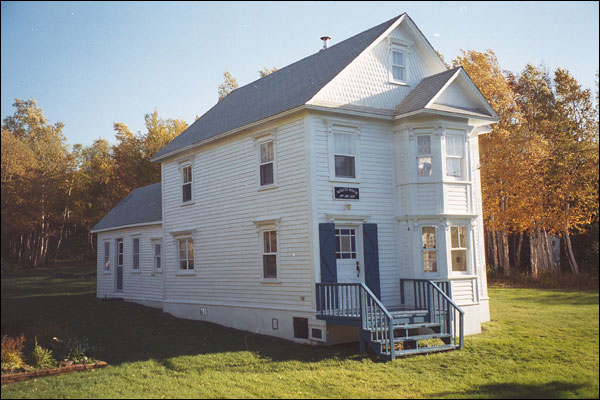 © 2003 Heritage Foundation of Newfoundland and Labrador
James (1877-1963) had three sons: John, Eldon and Bruce. James and his sons were schooner builders, and established a sawmill near the brook on the Portland property. The lumber cut there was used in their schooner building enterprise. An example of their craftsmanship was the "Crystal Stream" a schooner built by the family business in 1938, and sold to Theophilus Hunter of Salvage in 1944.
When James' son John (1908-1980) was a young man, he started building a house on the family property with the intentions of marrying a young lady in the community and starting a family. John began work on the house sometime around 1928 and finished around 1935. By the time the house was completed, John's betrothed had left the community, and so John sold the property to Mr. Cater Knee circa 1940. Romantics will be happy to note that John and his betrothed reunited later in life and were indeed married.
On December 27, 1943, James Hancock also sold his title and interest in his portion of the land to Cater Knee. Knee lived in the house with his wife and three daughters. Between 1940 and 1945 he constructed a linhay on the back of the house and used it as a store. He sold a variety of items, including groceries, clothes and general hardware.
In 1973 the house was sold to Beulah (Betty) Barrett who lived in the building with her son Michael. In 1985, the property was sold to William and Gloria Francis who have used the house ever since as a seasonal home. William and Gloria Francis have renamed the house "White Rock by the Sea" in honour of the original name of Portland.
The house itself is a testament to the carpentry skill of John Hancock and his family. All original features have been preserved, including decorative raincaps and brackets, coloured glass front door with wooden storm shutters, the two storey pedimented bay window, and decorative shingling in the gable ends. The house was constructed with trees that were cut on the Hancock property and sawn in the family sawmill. During construction of the house, a schooner was built in the rafters of the attic and moved, possibly for sale in the United States.
Due to the high level of architectural craftsmanship the building represents, and for its high level of preservation, the John Hancock House was designated a Registered Heritage Structure on March 27th, 2003 by the Heritage Foundation of Newfoundland and Labrador.