Jake Crocker House
(Trout River)
The Jake Crocker House, a two storey biscuit box style house built circa 1898, is a representative example of an early twentieth century fisherman's dwelling on the west coast of the province. This vernacular house type was built by fishermen in the Bonne Bay region in the late 1800s and early 1900s and few unaltered examples presently exist in the area.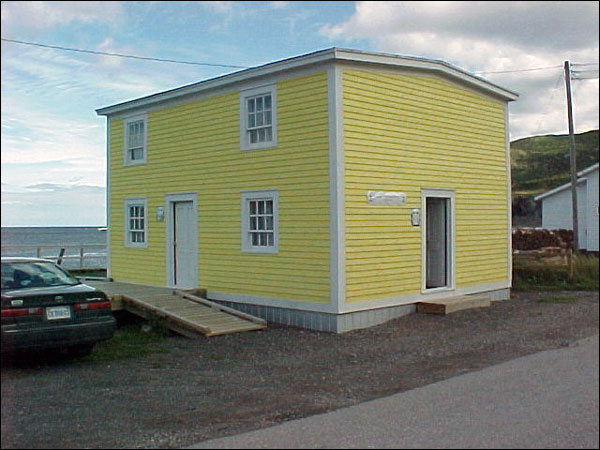 Jake Crocker House, Trout River, NL
The dwelling is a good example of an early 20th century fisherman's home on the west coast of the province.
© 2004 Heritage Foundation of Newfoundland and Labrador
While connected to no specific historical event or person, the house is symbolic of a particular time, place and occupation. It represents the vernacular style of ordinary fishermen and the permanence of their building technology and way of life.
The home was built by Jacob A. Crocker, Sr, grandson of George Crocker of Dorsetshire, England, one of the first settlers in Trout River. From the days of early settlement, life in this community was orientated to the sea and generations made a living from it. Through several generations residents of the Jake Crocker House were participants in this tradition and the building stands as a testament to this way of life.
The Town of Trout River operates a museum in the Jake Crocker House, focussing interpretation on the importance of the fishery to the community.
The Heritage Foundation designated the Jake Crocker House a Registered Heritage Structure in March 2003.
---
Also view the Jacob A. Crocker House Registered Heritage Structure on the Heritage Foundation of Newfoundland and Labrador web site.
The Newfoundland and Labrador Heritage Web Site has on its site only a portion of the registered heritage structures in Newfoundland and Labrador. To view a complete list or search for a particular structure visit the Heritage Foundation's Property Search page.