Horwood House
(718 Water Street, St. John's)
Built toward the end of the nineteenth century by Reuben F. Horwood, Horwood House is a distinctive dwelling in downtown St. John's.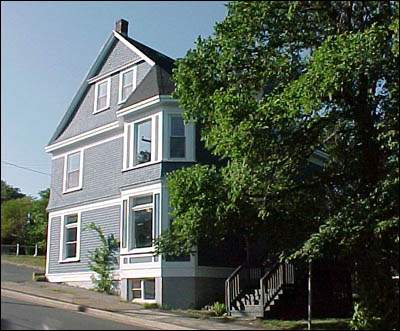 © 1998 Heritage Foundation of Newfoundland and Labrador
Reuben Horwood was a businessman born in Carbonear in 1867. He started his business career operating a sawmill at Clarke's Beach with his brother, William. After the Great Fire of 1892 destroyed much of downtown St. John's, there was a tremendous demand for building materials. To meet this demand, Horwood and his brother began a lumberyard and woodworking factory in the city. The brothers quickly became a huge success and their business, the Horwood Lumber Company, was the largest building material company in St. John's at that time. Horwood remained the company's managing director until his death in 1937.
While the Horwood Lumber Company was being incorporated in 1902, Horwood was also building a house in downtown St. John's. He did not live for long at the house that bears his name. In 1907 he sold the land and the building to a Mabel Johnson. After that, the house changed hands several times over the decades, but remained a private dwelling. This changed in 1978 when an architectural firm converted part of the building into office space. In 1988 the Newfoundland and Labrador Home Builders Association bought the building and moved its offices there. Today, part of the building is being used by the real estate brokerage Royal LePage Professional 2000, and by Furs Holdings Inc.
Horwood House is a three-storeyed wooden house with a frame construction. The roof is peaked in a Victorian style, with the west side of the house featuring a double dormer that stretches over two floors. The exterior is constructed with bevelled edge clapboard. Other architectural features include ornate cedar shakes and detailed mouldings around the windows, doors and eaves.
While the architectural firm occupying the house renovated extensively during the early 1980s, care was taken to retain the uniqueness of the building. For their efforts they won the St. John's Heritage Trust Award. Horwood House was recognised as a Registered Heritage Structure in October 1988.