Heber John Abbott House (Bonavista)
The Heber John Abbott House is located on Cape Shore Road, in Bayley's Cove, Bonavista. It may have been built by James Way, a fisherman who obtained a land grant for the property in 1869. This may suggest a date for construction, but knowing Newfoundland land title practices it was not uncommon for houses to be built before obtaining proper grants.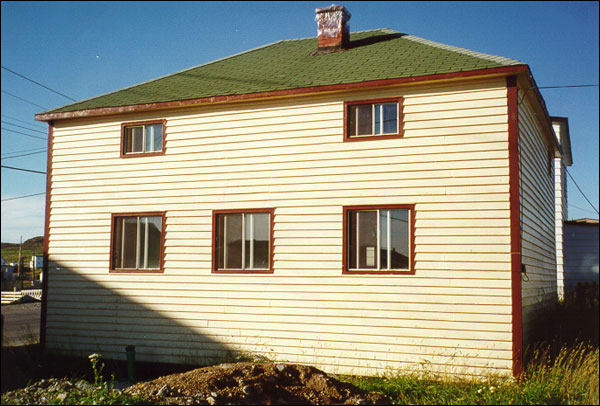 Before restoration.
© 1998 Heritage Foundation of Newfoundland and Labrador
Featured in the book Ten Historic Towns this house was noticed as an important structure as early as 1974. It is considered important both for its form and for its method of construction. The Heber John Abbott House is a two storey, hipped roof house and is a rare and early example of full studded, or tilt construction, one of the earliest known methods of Newfoundland vernacular architecture. Full studding is a bit like classic log cabin construction except that the logs are set vertically, not laid horizontally.
Sitting on a stone pile foundation this small house has a three bay façade with 3/6 and 6/6 double hung windows. The pronounced, bracketed rain caps feature prominently on this otherwise simple house, and are a common architectural feature found in Bonavista. The unbroken rear façade is delineated by the single door, also decorated with a prominent rain cap and drip moldings. It is the only entrance to the house. The simplicity of the house, coupled with the single entrance and elaborate windows reflect mid-19th century Newfoundland vernacular architecture.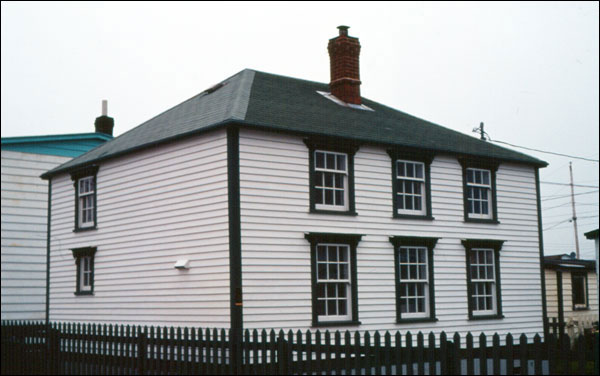 After restoration.
© 2004 Heritage Foundation of Newfoundland and Labrador
The house is named for Heber Abbott, a fisherman who was living in the house in 1974 when it was featured in Ten Historic Towns. It is possible that the house was passed on to Mr. Abbott by his parents since he was the youngest boy in his family of 13. Prior to the Abbotts living there, the house was owned by Ernest Hayley who may also have been the builder of the home. The current owner, Curtis Linthorne recognized the potential of the structure and undertook major renovations to restore the house to its original state. In so doing Mr. Linthorne helped save a significant component of the architectural landscape of Bonavista.
The Heritage Foundation designated the Heber John Abbott House a Registered Heritage Structure on September 30, 1995 and in 2001 it received the Southcott Award for excellence in restoration.