Benjamin Barbour Home
(Newtown)
The Benjamin Barbour Home is one of two heritage homes in Newtown built by the Barbours, one of the most important sealing families in Newfoundland.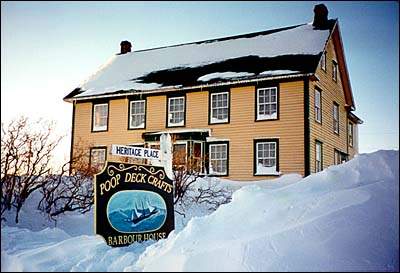 © 1998 Heritage Foundation of Newfoundland and Labrador
The home was originally built for Captain Benjamin Barbour and his family of nine sons and two daughters. Barbour came to Newtown from Cobblers Island in 1873. For the first two years in the community, the family lived in a "log cabin", possibly a studded house, near the site. The Barbour Home was finally completed in 1875. After it was finished, other homes were built in the community to house other members of the family.
Although Benjamin Barbour himself was not involved in the sealing industry, the rest of his family were involved. Fourteen of the descendants of Benjamin Barbour became captains and ten of those were sealing captains. The Barbours were considered one of the most prominent sealing families in Bonavista Bay. Other families of note included the Keans, the Winsors and the Blackwoods.
The Barbours were also involved in trades outside the sealing industry. Most were involved in the fishery, especially the Labrador fishery. The family also established and maintained a business in Newtown until the early 1990s. As well, the family operated a passenger boat service from 1942 until a road connected all the settlements it serviced. All of this made the Barbours vital to the economic well-being of the small community.
The Barbour Home is typical of the larger merchant houses built in many Newfoundland communities in the latter part of the nineteenth century. The gabled roof, symmetrical facade, end chimneys and general proportions make it almost identical to most of the main houses in Brigus, which also produced its share of great sealing captains. The house has two-and-a-half storeys and is made of pine.
This house is unique in that it was originally intended to be a semi-detached dwelling, but for some reason it never became one. There are two front doors, for example, but once inside there is no dividing wall for the two sides of the house. There are twin staircases, with one turning toward the left and the other to the right. The interior also has 32 rooms including 12 bedrooms, two dining rooms, one upstairs parlour and two kitchens.
The house, with the exception of its dual nature interior, is a good representation of the kind of house built by prosperous captains at that time. The house was owned for a number of years by Benjamin Barbour's grandson, the late Captain Carl Barbour, who used it primarily as a summer home. Recently, the house has been used as a craft shop.
The Benjamin Barbour Home became a Registered Heritage Structure in December 1986. It was awarded the Southcott Award for restoration by the Newfoundland Historic Trust in 1998.