Beckett Property
(Old Perlican)
This house was built by George Barrett Sr. and his son Arthur J. Barrett in 1902. It was then sold to fisherman Henry Roger (Harry) Beckett and his wife Genevra. Her son Harvey by a previous marriage, as well as Freda and Ernest, her children with Harry, were living in the community in 2001.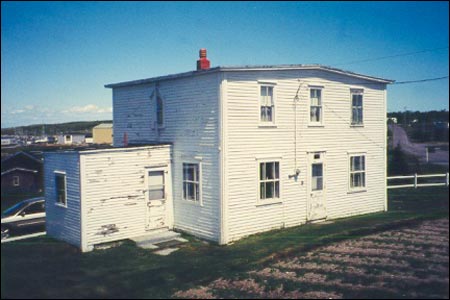 Beckett Property before Restoration
© 2001 Heritage Foundation of Newfoundland and Labrador
The main floor of the house was built with two parlours, an interior porch with a coloured glass door, a kitchen, and pantry. Upstairs there were four bedrooms with the two in the rear having mantles and stoves. One of the rear bedrooms was a guest room where teachers and ministers were boarded. The property features a cellar, well, small barn, duck house and associated vegetable garden where the Becketts grew potatoes, turnip, carrots, beets and rhubarb.
Originally constructed with the typical curved mansard roof and dormer windows of the Second Empire Style, the building was modified in the mid-20th century. Its walls were raised and a flat roof added, preserving the original roof underneath the new one. Very few alterations have been made to the interior. The walls of the upper rooms still bear witness to the original curve of the mansard roof.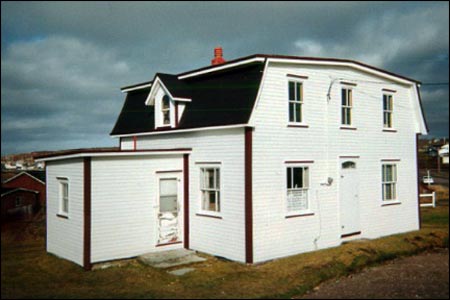 Beckett property after restoration.
© 2003 Heritage Foundation of Newfoundland and Labrador
The building was designated as a Registered Heritage Structure by the Heritage Foundation of Newfoundland and Labrador on September 15th, 2001, and was restored in the summer of 2002. The restoration of the Becket Property proved to be an exciting project for the community of Old Perlican, as well as an interesting bit of architectural archaeology as the hidden roof and dormers were returned to the light of day.