Bank of Nova Scotia (Burin)
The Bank of Nova Scotia building in Burin is a two and a half storey wooden structure. Constructed between 1890 and 1910 and situated in the heart of Burin's old commercial district, the building was both a residence and commercial premises.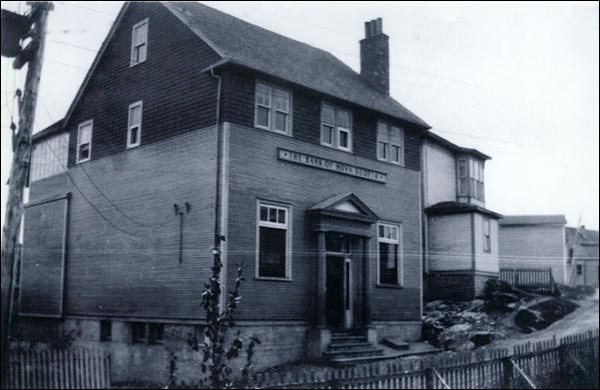 The Bank of Nova Scotia, ca. 1936
© 2004 Heritage Foundation of Newfoundland and Labrador
The area in which the building is situated has been home to several commercial ventures, starting with a general supply business operated by Ernest Payne around 1870. Mr. Payne sold his business to James E. Burgess and Sons of Nova Scotia in 1885, who in turn sold the property in 1913 to William and Thomas Hollett and Sons, pioneers in the Bank Fishery. The building which housed the bank was leased from Burgess and Sons, and after 1913 from Hollett and Sons. In 1919 the Bank of Nova Scotia purchased the property.
The Bank of Nova Scotia was the first Canadian bank to open a branch in Newfoundland, following the "crash" of the two local banks in December, 1894. From 1909 the bank began to establish outport branches, among them the one at Burin in 1910.
There is a local tradition that during the Prohibition years, the American gangster Al Capone conducted some business at the bank, which was near the French islands of St-Pierre and Miquelon, then the centre of illegal liquor smuggling in which he was heavily involved.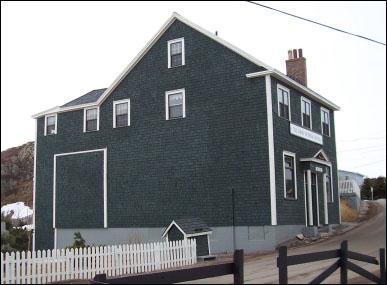 After Restoration
© 2005 Heritage Foundation of Newfoundland and Labrador
The first incarnation of the present building was erected about 1890 and was very different in form from the building today. After 1910, a low-pitch roof was raised to a mid-pitch gable roof, and renovations were made to the rear to provide living quarters for the bank manager and his family. A two-tier fire-proof brick bank vault was also added to the rear of the building.
The building served as a bank and residence until 1991. Presently the Town of Burin operates an interpretation centre there.
The Bank of Nova Scotia in Burin was declared a Registered Heritage Structure by the Heritage Foundation of Newfoundland and Labrador in March 2001.