Ecoregions of Newfoundland
The island of Newfoundland can be broken up into three zones based on geography: southern boreal, middle boreal and northern boreal. The southern boreal zone includes the following ecoregions: Avalon forest, Western Newfoundland, Maritime Barrens, and Eastern Hyper-Oceanic Barrens. The middle boreal zone includes the following ecoregions: Central Newfoundland, Northshore and the forested parts of the Northern Peninsula. The Long Range Barrens and Strait of Belle Isle ecoregions are in the northern boreal zone. Black spruce forests are found throughout Newfoundland, with most widespread distributions in the central part of the island. Balsam fir forests are dominant in western, northern and eastern Newfoundland.
The different ecoregions of Newfoundland are outlined on the map below. Click on an ecoregion name to be taken to the article for that region.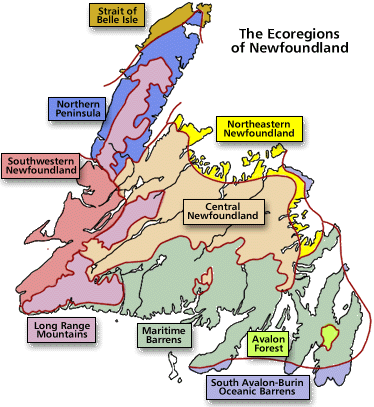 The Ecoregions of Newfoundland
Map by Tina Riche. ©2002, Newfoundland and Labrador Heritage Web Site Project.