Tickle Harbour:
The Brule Boys in Paris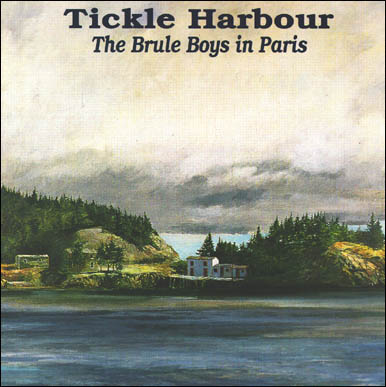 The Brule Boys in Paris by Tickle Harbour

The Brule Boys in Paris was released in 1991. The traditional tracks are presented here with the permission of Tickle Harbour.

Seamus Creagh - Fiddle
Paddy Mackey - Bodhran
Rob Murphy - Flute
Bob O'Donovan - Fiddle
Scott Schillereff - Hammer Dulcimer
Gerry Strong - Tin Whistle
Don Walsh - Guitar, Bouzouki All tracks traditional except: Flatbush Waltz by Andy Statman, published by Oceana Music Publishing ASCAP; The Brule Boys in Paris, St. John's Mazurka and Kitty Yates Turn by Bob Donovan, published by Piper Stock Music; Rawlins Cross Reel by Seamus Creagh; Memory Waltz by Dave Panting
Tracks:
01. Paddy Gavin's Reel/ Last Night's Fun/ Olde Cuffe House Reel (3:26)
02. Eavesdropper Jig/ Humours of Corofin/ Martin Byrnes (3:42)
03. O'Connell's Trip to Parliament/ Lucky in Love/ Patsy Minter's Reel (4:22)
04. The Waterford Boys (3:29)
05. The Night Before Larry Got Stretched/ Humours of Kinvara/ Ratigan's Reel (4:19)
06. Flatbush Waltz (2:39)
07. The Rising Sun/ Freshwater Reel/ Shrinking Reel (3:26)
08. St. John's Mazurka/ The Brule Boys in Paris (3:21)
09. The Dionne Reel (3:21)
10. The Memory Waltz (3:08)
11. Polkas (3:40)
12. Kitty Yates Turn/ Rawlins Cross Reel/ Paddy Ryan's Dream/ The Boys of Laois (5:30)
(From the liner notes)

Seamus Creagh (fiddle), originally from Westmeath, came to Newfoundland after a twenty-year stint in Cork where he played and recorded with Jackie Daly and other well known Irish musicians. A full-time musician, he initially came to Newfoundland to play at a folk festival; shortly after, he returned to stay.
Paddy Mackey (bodhran), a St. John's man and a carpenter, developed a keen interest in the bodhran fifteen years ago and has, at one time or another backed every well-known Newfoundland musician at sessions, folk festivals, and concerts.
Rob Murphy (flute), another Cork man, has been playing the flute for as long as he can recall. When he came to Newfoundland to establish his medical practice, the flute made the trip as well.
Bob O'Donovan (fiddle) is the second full-time musician and the third Cork man in the group. He has lived in Canada - mostly in Newfoundland - for the past twenty years, and has played with a number of Irish groups.
Scott Schillereff (hammer dulcimer) hails from Chicago, and came to Newfoundland to pursue his doctorate in geology.
Gerry Strong (tin whistle) is an x-ray technician from Carbonear who took to the tin whistle during a year spent in Ireland.
Don Walsh (guitar/bouzouki) is a computer programmer, the owner of Dadyeen Recording Studio and the second St. John's man in the group. He is, along with Gerry Strong, the other founding member of the original Tickle Harbour.
Additional Musicians:
Ed Didham - Accordion (The Dionne Reel)
Kathy Phippard - Piano (Memory Waltz)
Des Walsh - Bones (Rawlins Cross Reel & The Night Larry Got Stretched)
Technical Credits
Recorded and mixed at Dadyeen Studios, St. John's, NL
Production - Don Walsh and Rob Murphy
Engineers - Don Walsh and Dave Panting
Arrangement - Don Walsh and Rob Murphy
Cover Painting - Brule by Gerald Squires
Layout - Kelly Russell
Graphic Design - Disc Makers
Photography - Mannie Buchheit
Special thanks to Dave Panting for his input during recording