Music
Origins
As with many Newfoundland stories, the history of Newfoundland music of European origin begins with codfish.
Europeans first came to the island in the 16th century to harvest northern cod, and they brought their music with them. That music grew to become the voice of Newfoundland and Labrador, a powerful evocation of its lifestyle, heritage and personality. Music is our international calling card, and at home it is by far our most popular art form. There are many thousands who have never read a Newfoundland book or seen a piece of local theatre. But practically everyone here has heard The Kelligrews Soiree or danced to a local rock band.
The music arrived with the Irish, Scots, French and English who settled along the island shoreline and up the coast of Labrador. They sang shanties as they worked and shared ballads and tunes at the end of the day. Over time, the settlers and their descendants reworked the old music and created new songs to tell their own stories. Newfoundland music spoke of work, politics, humour, fear, hope, tragedy and the ebb and flow of day-to-day existence. Whether it was the simple story of Lukey and his boat or a lament for the oppressive life cycle of labour and debt, Newfoundlanders recorded it in song.
Evolution
In its evolution, folk music varied significantly from one harbour to the next, but remained true to its old world roots as it was passed on through generations. Other musical genres developed on a more modest scale. By the end of the 19th century a few communities had church choirs, military or civilian bands and amateur troupes performing operettas and other light entertainment. The centres of greatest activity were St. John's and Harbour Grace, where visiting bands and companies occasionally played and local songwriters like Johnny Burke became popular. In Labrador, Moravian missionaries introduced Protestant spiritual music to the Inuit people, forming choirs and brass bands in every community. In the process, the aboriginal music of the Inuit was virtually eradicated.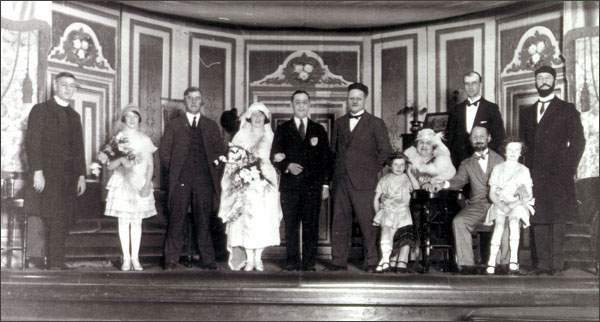 Cast of "Abie's Irish Rose," 1929
Operettas such as this one were entertaining audiences in Newfoundland communities by the end of the 19th century. The orchestra of this show was directed by Gus Stafford.
Courtesy of Archives and Special Collections (MF-287, 1.02), Queen Elizabeth II Library, Memorial University of Newfoundland, St. John's, NL.
It wasn't until the 20th century that Newfoundland folk music truly emerged from the kitchens and sitting rooms to take its place as a broader cultural voice. In the last 80 to 100 years the music has been heard by more people and has changed more rapidly than in the previous four centuries combined.
In the first half of the 20th century several printed collections helped spread and popularize the music. The most popular was Gerald S. Doyle's Old Time Songs And Poetry Of Newfoundland. The Doyle songbook first appeared in 1927 and eventually found its way into thousands of homes. By the 1930s Newfoundlanders were hearing homebred music performed on local radio. Shows like The Big Six and The Irene B. Melon included repertoires of Irish and Newfoundland favorites.
Social and Cultural Influences
Radio also introduced listeners to music from afar, such as American popular songs and British dance hall numbers. But it was during the Second World War any cultural separation between Newfoundland and the rest of the western world was broken for good.
American soldiers arrived at military bases around the island and Labrador with their own musical tastes. Their radio stations and visiting entertainers played jazz, pop and country music.
Social and cultural change accelerated following the war, with Confederation and the push for modernization. In the 1950s and 1960s young Newfoundlanders embraced rock and roll. The new generation of musicians picked up electric guitars instead of fiddles and accordions. Nightclubs and radio stations were dominated by rock and roll and country. In the new, more worldly Newfoundland, the old music was relegated to the venues where it had originated: kitchen parties and family gatherings.
Growing Interest in Traditional Music
A revival of interest in traditional music can be traced as far back as the debut of the television program All Around The Circle, which first aired on the CBC in 1964. Another revival was underway in Ontario, where expatriate Newfoundlanders popularized the traditional and country-influenced music played by Harry Hibbs and others.
By the end of the 1960s young musicians and artists were taking a new interest in traditional culture. Searching for an alternative to mainstream pop music, they turned to the music of their forebears. By the mid-seventies, young bands were playing the old tunes and ballads with electric instruments, sophisticated arrangements and the driving rhythms of the rock music they had grown up with. The Wonderful Grand Band was perhaps the most popular of the new traditional groups. But Figgy Duff left a towering legacy, bringing the music to national and international festivals and recording albums of traditional and original material.
Figgy Duff - along with other young musicians like Anita Best, Kelly Russell and Jim Payne - also helped search out and shine a spotlight on some of the best players of the older generation. Émile Benoit, Rufus Guinchard and Minnie White were among those who toured the island and the world. They were all over the age of 60 by the time they became public performers.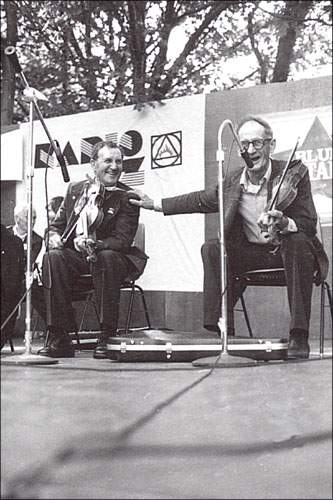 Rufus Guinchard and Émile Benoit, 1979
Guinchard (left) and Benoit performing at the St. John's Folk Festival. Both musicians did not begin performing publicly until they reached their sixties.
Courtesy of Archives and Special Collections (Coll - 154, E 1043), Memorial University of Newfoundland, St. John's, NL.
Broadening Newfoundland Music
The 1970s and 1980s were also a time when the term "Newfoundland music" broadened, as audiences and musicians confidently embraced indigenous and outside influences. Rock, pop and blues thrived at nightclubs and high school dances. A solid classical and choral music community took shape, centred on the Memorial University School of Music and the Newfoundland Symphony Orchestra. A few notable jazz players emerged, including the Jeff Johnston Trio, now recognized as one of Canada's finest jazz groups.
The last decade has seen unprecedented optimism about the commercial potential of Newfoundland music. Showcased and glamorized by the East Coast Music Awards, Atlantic Canadian music has been promoted as an industry, an untapped economic resource. For many Newfoundlanders the packaging and star-making style of the entertainment industry is a poor fit. Ron Hynes, for example, recorded two albums for the multi-national company EMI, but has since returned to being an independent artist and composer based in St. John's. But others have prospered in the mainstream. The Irish Descendants released several gold records. The Thomas Trio and the Red Albino were briefly considered one of Canada's most promising rock groups before breaking up in the early 1990s.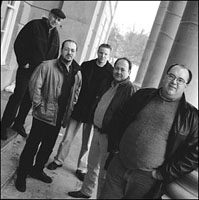 The Irish Descendants, n.d.
Left to right: Kelly Russell, Byron Pardy, Mike Hanrahan, Paul "Boomer" Stamp and Con O'Brien.
Photo by Justin Hall. Reproduced by permission of Michael Greggs.
The province's greatest musical success story is Great Big Sea, a quartet based in St. John's that has enjoyed a hugely successful national career. With the proven combination of traditional material and original pop-oriented songs, GBS brings Newfoundland music to a younger and larger Canadian audience than it has ever reached before.
Labrador and Aboriginal Music
The latest wave of activity has also focused new interest on aboriginal music and the music of Labrador. With his songs celebrating the land and its people, Harry Martin is perhaps Labrador's most popular artist. At the 2001 East Coast Music Awards both Martin and the Flummies, a Labrador folk group, were nominated for Aboriginal Artist of the Year. Others to emerge recently include David Penashue, whose band Tipatchimun plays rock music with lyrics sung in Innu. On the island, the Mi'kMacs of Conne River released a recording of drum and choir music.
A Musician's Struggles
As is the case everywhere, most musicians in Newfoundland and Labrador struggle to make a living. Playing to enthusiastic but small audiences at local clubs, concerts and festivals is not a lucrative venture. But talented composers, singers and players continue to emerge, live music flourishes (particularly in the clubs of St. John's) and technological changes have made it easier and cheaper to make quality recordings. There are now more local recordings in record stores than ever before. There is a popular circuit of folk festivals and St. John's hosts international events like Festival 500 and the Sound Symposium.
Conclusion
In most obvious ways the contemporary Newfoundland musician bears little resemblance to the outport balladeer or fiddle player of centuries past. But the spirit behind the music suggests a direct link between old and new. Like their ancestors, today's singers and players follow a do-it-yourself ethic, combine outside and local influences, encourage experimentation, and treat their musical heritage with both respect and irreverence. It is a formula that guarantees the continued the vitality of the music in years to come.