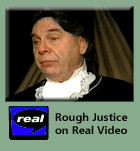 Rough Justice:
A Play in One Act
by Tom Cahill
---
Scene 4: The Supreme Court of Newfoundland in session, St. John's, November 8, 1820

Merchant Quirk enters acting as Court Clerk again and stands beside centre table, draping a scarlet cloth over the main chair.
QUIRK:
Hear ye! Hear ye! Hear ye! The Supreme Court of Newfoundland is now in session, Chief Justice Sir Francis Forbes presiding.
FORBES:
(Entering to take his seat behind the table after donning the scarlet cloth. Rustling through some papers he clears his throat and begins.) In the matter of an action of trespass for assault and false imprisonment along with a claim for damages resulting from a conviction in Surrogate Court in the settlement of Port de Grave six months ago last July, brought against magistrates Reverend John Leigh and Captain David Buchan by one John Lundrigan, the Court is aware that political activists among you hope this case will further the campaign to have Representative Government granted to the Colony of Newfoundland.
If it is regarded as the greatest aspiration of a civilized society that a rule of law be agreed upon, adopted and respected by all, the logical next step is to insure that those who are to abide under such laws control their institution and application. Likewise, reform of the law is useless, to an extent, if it does not address the needs of the people it serves and lead to political reform as well, so these improvements can be institutionalized.
As some of your leaders suggest, 300 years of settlement on this Island is indeed a sufficient minority, and you are now of an age to manage your own conduct and apply your own legal strictures. It is perhaps ironic, therefore, that my ruling today dismissing this action may be a help to your cause in that an appeal to the Privy Council against my decision, coupled with the disgraceful attempt to intimidate Chief Justice Tremlett some years ago will finally convince His Majesty's Government that proper reform of the law in Newfoundland awaits the fulfilment of your political aspirations.
I wish you luck.
Nevertheless, in the matter of the Lundrigan action, I must rule that this case hinges on a question of law, namely that the Surrogate Courts do, and did have, power to impose such sentences and punishments as were determined. Having said that, however, I would offer the sternest rebuke to the magistrates who presided. These gentlemen have seen fit to inflict the brutality of the quarter-deck on our judicial system, with unmerciful and cruel punishment that disuse has rendered obsolete in England, and which, in every view of the case, is considered harsh and uncalled for.
(Turning to LEIGH.) Before we adjourn, Mr. Leigh, I believe you wish to address the Court?
LEIGH:
I just want to say, M'lord, that I have personally bought back the property of John Lundrigan from Donald Graham, and hereby formally restore it to Mr. Lundrigan, his wife and family.
FORBES:
(Rising and banging his gavel.) This court stands adjourned. God save the King.
QUIRK:
(Walking out of the scene to address the audience as they file out.) And there it is! Although the Lundrigan appeal against the Forbes decision never reached the Privy Council, the agitators, not satisfied he got back his house and land, used it as an excuse to send petitions for reform and political independence to the King, the Commons and the House of Lords, that ended with the granting of Representative Government in 1832.
The Judges and lawyers, of course, will quote history to support their claim all this came about through their law reforms, and they saved Newfoundland from the merchants. But, like I said at the beginning, the early history of Newfoundland was written by two Judges, Reeves and Prowse, and until you read one written by a merchant, you can reach for that little shaker on the table in front of you, and take that with several large grains of salt. Goodnight. (He bows and walks off.)
THE END