Recruiting the Newfoundland Regiment
When the First World War broke out on August 4, 1914, many people in Newfoundland and Labrador wanted to serve overseas. The dominion did not have a regiment of its own, so it was initially believed that volunteers would have to join British or Canadian armed forces. Newfoundland had a local branch of the Royal Naval Reserve, but the closest thing it had to any land forces were four church brigades and a paramilitary group known as the Legion of Frontiersmen.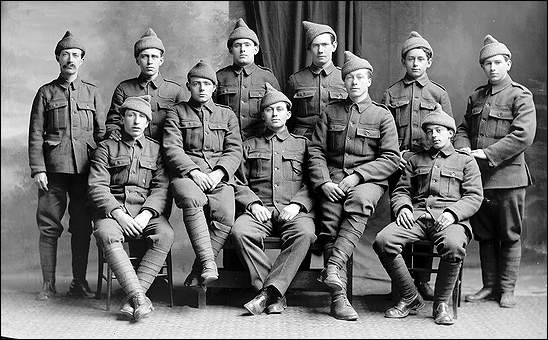 No.6 Platoon, Section 8, 1914
Courtesy of the Rooms Provincial Archives Division (F 40-2), St. John's, NL.
Despite its lack of military preparedness, the government decided to do more than simply provide volunteers to other Allied forces. On August 8, Governor Sir Walter Davidson wired Britain's Colonial Secretary to suggest that the dominion raise a regiment of 500 volunteers for land service overseas. The British government accepted his offer.
Recruiting The First Five Hundred
Davidson and Newfoundland Prime Minister Edward Morris moved quickly to bring the 1st Newfoundland Regiment into being. Rather than create a government-run military department to raise, train, and equip the Regiment, they decided to establish a non-partisan volunteer organization. Both men hoped that such a group would remove divisive party politics from the war effort and unite people from different religious denominations. The Newfoundland Patriotic Association (NPA) formed on August 17 with Davidson as its head.
He issued a proclamation on August 21 asking for volunteers – men between the ages of 19 and 35 who were in good health, weighed at least 120 pounds, stood at least 5 feet 4 inches tall, and were willing to "serve abroad for the duration of the war, but not exceeding one year." The NPA limited the commitment to less than one year because it was widely believed that the war would only last for a few months.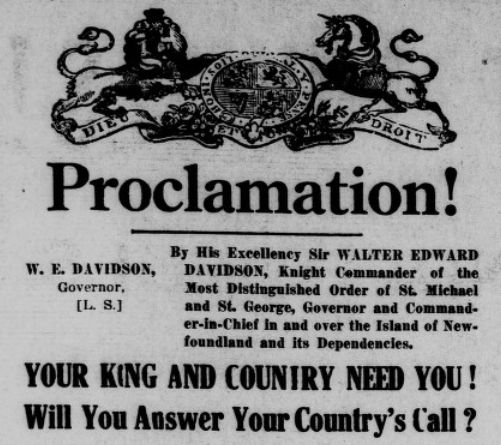 Seeking Recruits to the 1st Newfoundland Regiment
Evening Telegram August 22, 1914
The early response was enthusiastic. By the time recruiting for the first contingent ended on September 26, 970 men had signed up (about two-thirds were from St. John's). Of those, 565 were accepted, more than 200 rejected, and the remainder held under consideration. The men who passed the medical and other requirements moved to a training camp the NPA had established at Pleasantville, near Quidi Vidi Lake in St. John's. They became known as the First Five Hundred (and as the Blue Puttees, because of the non-standard leg gear they wore due to a shortage of khaki fabric on the island).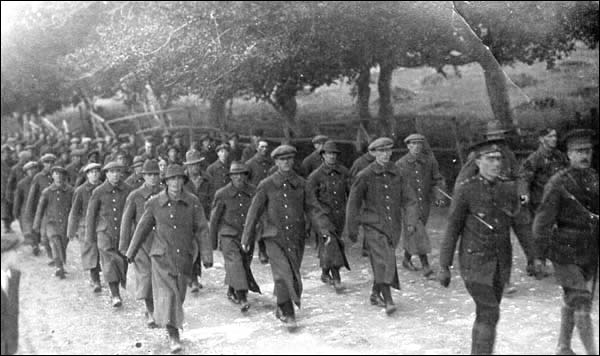 "Brothers All". Members of the First Five Hundred on a Route March from Pleasantville, September 1914
Courtesy of the Rooms Provincial Archives Division (A 8-85), St. John's, NL.
On October 3, 1914, 538 Blue Puttees (different sources provide slightly varying numbers for the "First Five Hundred" recruits, ranging from 525 to 546; 538 is the number of men the Evening Telegram listed on 24 October 1914) marched to the St. John's waterfront and boarded the SS Florizel. They were divided into two units, known as A and B Companies. The steamer brought the men to the United Kingdom for several weeks of additional training before they were deployed to the frontlines.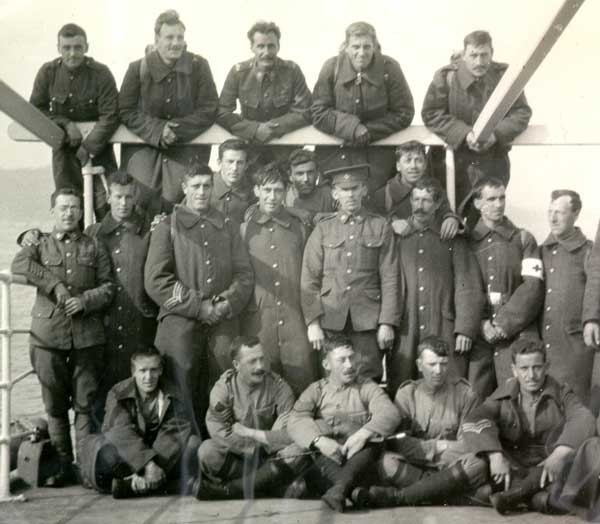 Blue Puttees aboard the Florizel, October 1914
Courtesy of the Rooms Provincial Archives Division (B 35), St. John's, NL.
Expanding the Regiment
In Newfoundland, meanwhile, the government decided to increase the Regiment to full battalion strength, which would require about 1,000 men in the field and another 500 in reserve. It was a significant commitment from a small dominion, and one that the government made quickly, with little consideration of how the NPA could sustain a steady supply of recruits if the fighting lasted longer than the anticipated few months.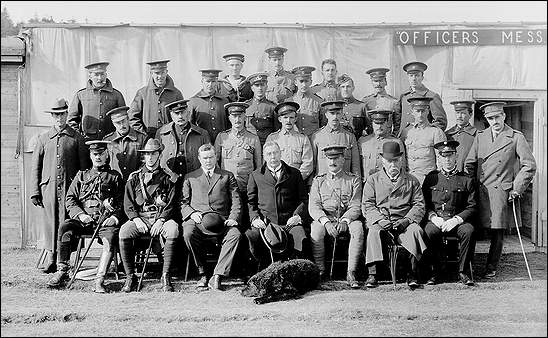 Various Soldiers, Sailors and Government Officials at Pleasantville, St. John's, September, 1914
Seated (left to right): Capt. A.C. Goodridge (ADC. to Governor), Capt. W. F. Rendell, Capt. A. Montgomerie, HE Governor Sir Walter Davidson, Capt. W. H. Franklin, Prime Minister Sir E. P. Morris, Capt. C. MacPherson, MO.
Second Row: Lieut. H. Goodridge, Capt. C. Alexander, Capt. G. Carty, Capt. L. Paterson, MO., Capt. A. E. Bernard, Lieut. H. A. Outerbridge, QM., Capt. H. A. Timewell, P.M., Lieut. R. S. Rowsell, Capt. A. O'Brien, Capt. G. H. F. Abraham.
Back Row: Lieut. C. Wighton, Lieut. N. Alderdice, Lieut. C. Howlett, Capt. A.W. Wakefield, M.O., Lieut. J. A. Ledingham, Lieut. M. F. Summers, Q.M., Lieut. C. R. Ayre, Lieut. R. H. Tait, Lieut. J. Nunns, Capt. J. W. March, Lieut. A. Raley (Identified in Nicholson, Fighting Newfoundlander, 108).
Courtesy of the Rooms Provincial Archives Division (F 30-26), St. John's, NL.
Newfoundland and Labrador had a population of about 242,000 in 1914. Of the approximately 122,500 males, only 33,708 were age-eligible for military service. Medical, physical, and other requirements further narrowed the pool of eligible volunteers. There were also economic barriers. The cod fisheries were the mainstay of the Newfoundland economy and required an ample supply of able-bodied men. Many fishers could not enlist overseas without plunging their families into poverty.
Nonetheless, the NPA released recruitment notices for the second contingent on November 26, 1914 and enlistments began four days later. Aside from increasing the maximum age limit to 36, the eligibility requirements remained the same. The war was still in its early stages and the public's enthusiasm to volunteer was still high. In just three days, 433 volunteers signed up; by December 10, there were 607.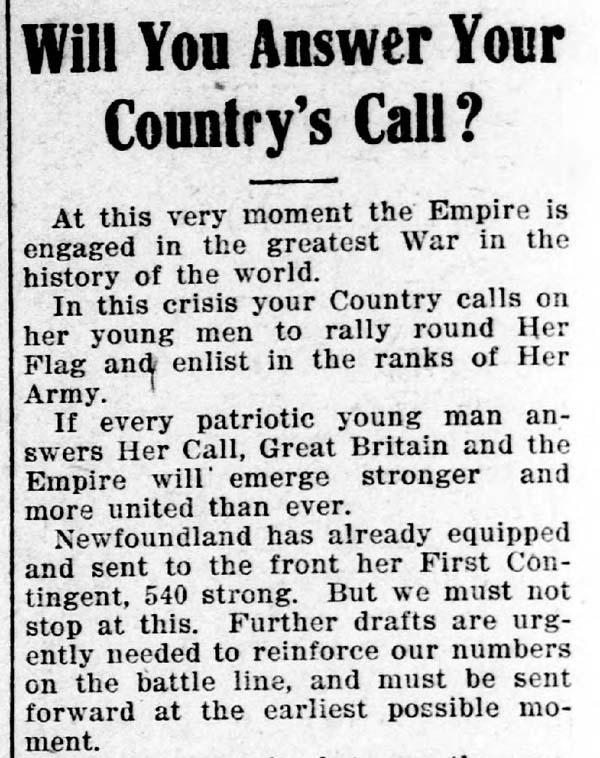 Recruiting Begins for the Second Contingent
Evening Telegram November 26, 1914
Recruits trained at Pleasantville and a second contingent of approximately 250 men (known as C Company) departed Newfoundland aboard the SS Dominion on February 5, 1915. By April 1916, five more companies of about 250 men each had departed Newfoundland for service overseas.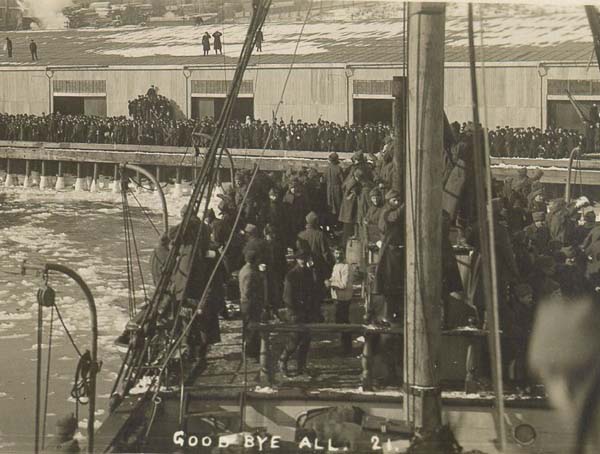 Regiment solders leaving St. John's for England, 1915
D Company, 1st Newfoundland Regiment, on SS Neptune leaving Furness Withy wharf. Caption on postcard: "Good Bye All".
Courtesy of the Rooms Provincial Archives Division (VA 37-21.4), St. John's, NL.
Recruiting Falters
But by the summer of 1916, the NPA was struggling to find enough new recruits to maintain the Regiment at full fighting strength. The near annihilation of the Regiment at Beaumont Hamel on July 1, 1916, followed by costly major engagements at Gueudecourt in October 1916 and at Monchy le Preux in April 1917, increased pressure on the dominion to find additional men. About 500 reinforcements arrived in Europe late June and early July 1917, but the Battle of Cambrai that November and December reduced the Regiment to 250 all ranks.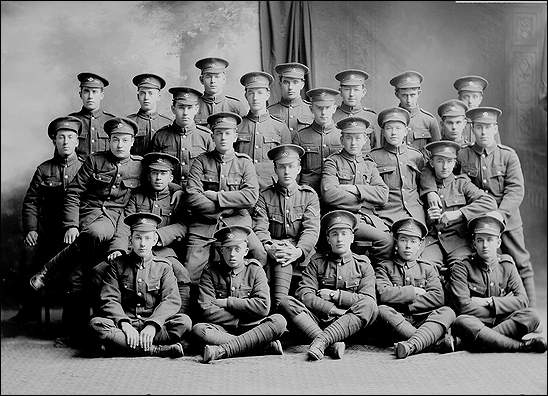 Newfoundland Regiment Soldiers, n.d.
Courtesy of the Rooms Provincial Archives Division (F 25-4), St. John's, NL.
A flaw in the NPA's recruiting strategy was its treatment of outport areas. In February 1916, enlistment rates reportedly varied from a high of 1 out of every 36 persons in St. John's to a low of 1 out of 329 in the Bay de Verde district. Many city newspapers and NPA members wrongly dismissed this as outport apathy. They failed to recognize that significant economic and geographic barriers prevented rural residents from enlisting. The NPA further contributed to the problem by failing to connect with outport residents in an effective way. It remained an essentially St. John's organization throughout the war, with only a small presence in rural areas.
With casualties rising, and with no immediate end to the war in sight, the government recognized that it would have to introduce conscription and assume direct responsibility for the war effort. Prime Minister Edward Morris formed a National Government in July 1917, which combined the People's Party, the Union Party, and the Liberals into a single coalition administration.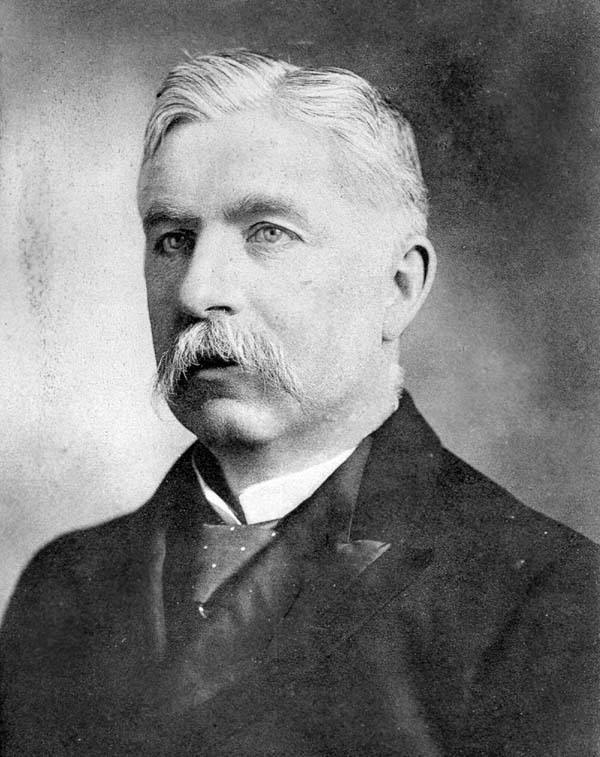 Sir Edward Morris
Courtesy of the the Rooms Provincial Archives Division (VA 33-59), St. John's, NL.
The government created a Department of Militia to replace the NPA, but it also struggled to enlist new recruits. Inducements such as allowances to men with wives, children, and other dependents, and a highly publicized recruiting drive that fall, met with limited success.
In April 1918, the Regiment suffered another 176 casualties at Bailleul. It was a heavy blow to an already depleted unit. The manpower problem became so serious that Allied commanders decided to remove the Regiment from the front lines entirely until Newfoundland provided more recruits. A final batch of volunteers arrived in September and allowed the Regiment to serve with distinction as part of the 9th (Scottish) Division at the Fourth Battle of Ypres.
Conscription
However, the government recognized that it could no longer rely on volunteers to maintain the Regiment at full fighting force. It passed the Military Service Act on May 11, 1918, which brought conscription into effect. Similar legislation already existed in Canada and Britain. The Newfoundland government conscripted 1,573 men into service, and the first draft left the island in September for training in England. However, they were still in training when Germany signed the Armistice on November 11, 1918 and the war ended. As a result, the Regiment was able to claim that it had served throughout the war as a truly volunteer force.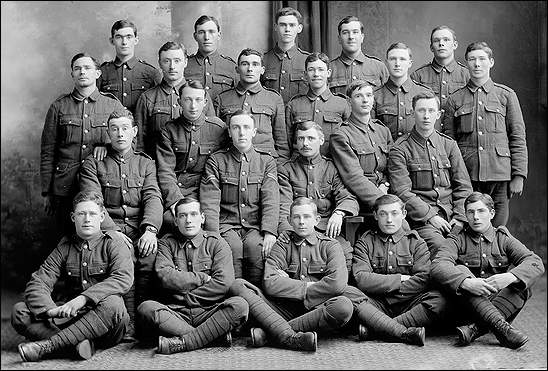 First Newfoundland Regiment Soldiers Under the Command of Capt. Eric Ellis, n.d.
Identified on reverse: [Albert W.?] Banfield (Regt. # 1687); J. [Joshua] George (Regt. # 2015); E. [Ernest] B. Cheeseman (Regt. # 1927); E. Mar's[?] [possibly Edward Maher, Regt. # 1105]; A. [Ambrose] Guy (Regt. # 2005); T. Harvey; C. [Clarence] Foley (Regt. # 2007); J. Penney; L. Brown; H. [Arthur H.] Lawrence (Regt. # 2002); C. A. Reid; N. Sheppard; F. Reid; Corp. E. [Eric], Ellis (Regt. # 0-127, 1895); Instructor Hussey; L. [Lemuel] Morey (Regt. # 1967); E. [Ernest H.] Walters (Regt. # 2017); B. [Bella] Abbott (Regt. # 2020); N. Hussey; J. [John] Field (Regt. # 2003); A. Batten (Regt. # 2045); A. [Alfred] Reid (Regt. # 761).
Courtesy of the Rooms Provincial Archives Division (NA 3847), St. John's, NL.
By the time the war ended, a total of 6,241 men from Newfoundland and Labrador had served in the Regiment. Another 6,184 had offered to serve, but were rejected for medical or other reasons, which brought the total number of enlistments (both accepted and rejected) up to 12,425. Another 5,747 men served in the Newfoundland Royal Naval Reserve, the Newfoundland Forestry Corps, the Canadian Expeditionary Force, and other Allied Forces.